Corona Virus has become the pandemic that we never thought it could be. With the Government having imposed a serious lockdown, it is obvious that a lot of our plans went for a toss. Especially for the ones who had their birthdays or anniversaries coming up around this time.
With no special dinner dates, no large scale surprises to throw, no options for partying, or even going out on a special long drive, it will look like the special day has gone mundane! However, it doesn't have to be so because there is a silver lining!
At Just4You, we brainstormed and thought- why not bring the surprises home, add a personal quirk and make the special day even "specialer"! So, after days of hard thinking, here we are with some of the most awesome personalized, customized surprises at offer for you and your loved ones!
How to Celebrate During National Lockdown
Have a Celebrity Wish them
How about Amitabh Bachchan or Alia Bhatt or any of your loved one's favorite celeb wishing you on their special day! The idea sounds great, right! Well, we can do it for you. Our amazing voice artists will call and deliver your message in the perfect accent! So, how about that? When should we call and in whose voice?
Make it Even better- Make them the celebrity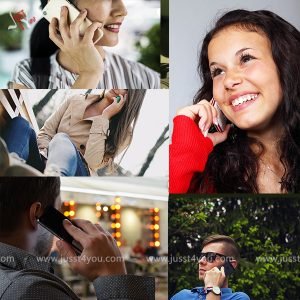 Personally, this would be better! We call it- Wish from Strangers. This surprise would involve random (but trusted) people calling your loved one on their day wishing them and telling how they heard about it on TV or Radio or Newspaper or anywhere! Imagine the celebrity like special feeling that your loved one will have by such a gesture!
Get a personalized Website or Mobile App
A simple sweet gesture that will have their photos, a little description about them or anything else which you would want, complete with a personalized domain name! Host the deets to the world friends! Take your wishes truly global!! The same applies to the mobile app too. Just let us know whether they use Android or iOS and we will have the app made. Just that this process takes a bit of time so, allow us that!
Say it all with poetry/song and Guitar
A sort of traditional wish, just let us know their favorite poetry or song and we will play it for them. Add a Guitarist to it and the gesture turns truly romantic too! And just to clear out any probable confusions, all of this would be done in front of a camera; social distancing you see!
Let the RJ announce it for them!
A standard offering of ours, the good part that it does not require any human contact. Our in-studio RJ will declare or recite your wish on our Radio Channel! Imagine taking love "on-air" literally!
Go, Fancy, have them in the Movie!
Yes! Imagine Kartik Aryan doing his dialogue delivery and just there in the middle, he talks about your loved one. Or say Shahrukh Khan spelling their name out in the midst of a dialogue professing his love.
And finally, a few usual but still available options:
Get them their caricature: Will give you a digital one right away and if you want, then a hardcopy will be given once the lockdown is lifted!
Have them painted digitally!
A real painter will paint you sitting right in front of your computer camera. The initial gift would be a digital print. The original copy will be sent once the lockdown lifts
How about the good old collage:
Complete with the music of your choice running in the background. Traditional but evergreen!
A Celeb Photo-Op:
The things we loved doing as kids. Take them down the memory lane by photo-shopping their picture with those of their favorite celebrities over the years!
Like we keep mentioning, and you must have been hearing from all resources- these times are tough. But, isn't it in such tough times that love blossoms the most! So go ahead and make their day special- in your own cute way choosing from the options in our kitty!!