There's only one type of divine happiness in life; to love and to be loved by someone. And if you, my dear friend, have found the love of life; you must already be thinking about various ways to express it to him/her. February, the month of love has already begun and so must the preparations! What to prepare? Ah, see that's a tough question but not when Just4You team is there, right.
And as our brand name goes, this love season, we bring more exclusive and special surprises Just 4 You 😉
How can we even begin to talk about love and miss out on Paris, yeah? So, imagine this, You and your partner, sitting one fine evening which happens to be valentines; having the best delicacies made with the tastes of Italy, and looking at The Eiffel Tower, which happens to be by the lakeside. All the decor and setup are made in the theme of Love in Paris, sounds pretty convincing!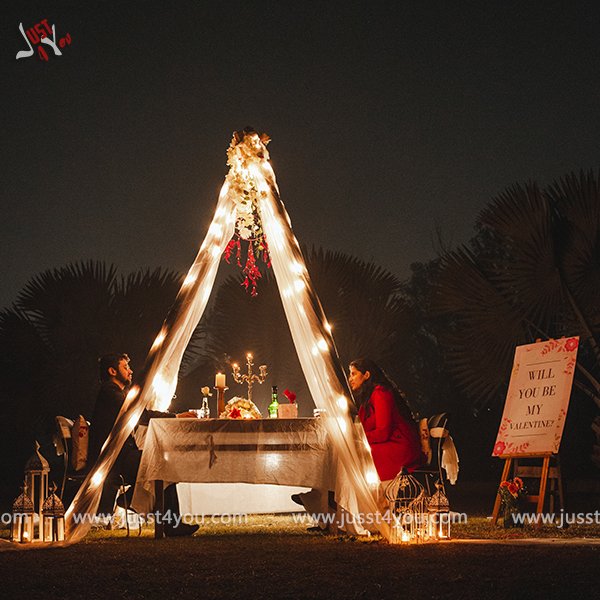 So, an exquisite surprise for the fans of the famous romance fantasy- Twilight Saga! If you have ever thought about the lovely fantasy fiction that starred Robert Pattinson and Kirsten Stewart; then well not that exactly because it is tough to summon vampires. Isn't it? However, if we talk about creating something as romantic and dreamy as that, well then, this surprise might just be it.
Well, if you and your partner don't like to fancy that much, no worries. We do have a very special product for you, that is both cosy and natural. Here, we clubbed all the ingredients of a perfect date night under one package that will bring the best out of your classic love story. A date set up straight out of our roots with flavours that will surely melt your heart. This valentine's week, you can spend some quality time in the lap of nature and relish that love bond with delicious food. This dinner date is set to add mildly spicy and desi flavours to your love 🙂
We, at Just 4 You, are a team of humble beings, who don't like to boast; but for a fact, this particular surprise became so popular that we had to launch another version of the same! In this new version, we bring a romantic decor filled up with sweet melodies of jazz, a dreamy ambiance of white drapes and candlelight dining.
We get that, urban life is keeping you busy these days. As a result, we are only living to earn money, but is money enough? As we mentioned at the very beginning, love is the truest form of divine happiness! So, try to take some time out of this hustle-bustle for the love of your life. You need to earn not just money, but experience! And that too with your friends, family, and loved ones; because they love and care for you every minute of the day!
But, just in case the lockdown or the current situation is keeping your love at quite a distance from you to come and celebrate together; then opt for the wonderful valentine's gifts we have for you! You pick, customize them and we'll deliver them to your love at super-fast speed, for sure 🙂
May you and your valentine have a great time!