There are also times when you want to lure your loved ones with different presents, such as birthdays. You could get intimidated and confused with so many gifting choices on the market. In such cases, a gift hamper is one of the most common and fashionable gifting choices! That's right, yeah! A gift hamper is a term that is quite common and somewhat misunderstood. A food box or fruit basket is not always a gift hamper. For a birthday or every other day, there are countless possibilities for a gift hamper basket. Books, chocolates, decorative items, music collections, suits, drinks, or even accessories for electronics can be included! Any person will be pleased to receive a basket full of his/her favorite treats, and on his/her face would undoubtedly form a smile. Gift hampers are one of the most flexible gifting choices because you can put something in them depending on the person or your budget. Gift hampers often come with great uncertainty alongside a wide variety of options. We at Jusst4you give you a selection of versatile and handpicked gift hamper baskets online to ease the process of buying gift hampers basket online. Many hampers include different items such as soft toys, picture frames, chocolates, roses, key chains, and much more that can be easily picked.
Seven mind-blowing hampers of all time
We provide you with seven such hamper ideas that will surely blow your loved one's mind and make them feel special and wanted. Let's have a look at some of the mind-blowing hampers to swoon them away.
Canopy hamper–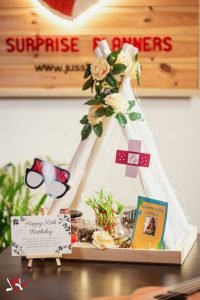 How about a hamper made in the form of a canopy with all those beautiful items in it. A beautifully decorated wooden tray with the props of your choice with breathtaking artificial flowers and leaves decoration. The hamper consists of a bamboo plant, some brownies, a pack of almonds, a jar of cake and a biodegradable notepad with a customized card with their picture and a message card. It also comes with a mini easel stand, and to lighten it up, it comes with LED fairy lights and premium white fur. Who would not drool over this tastefully created hamper?
The crystal hamper–
How pretty it would be to receive a hamper made of glass and looks so chic and sophisticated. Nobody would mind that. This crystal hamper consists of a mood card, a customized card, an A4 size frame, messages in a bottle, one novel, some bookmarks, some quirky badges, a mini easel prop, a cute soft toy, some miniatures and some roses. Such a carefully crafted hamper, isn't it?
Love hamper–
Now this hamper is for all the lovers out there. You can gift this hamper to anyone you want to express your love for and make them feel loved. This lovey-dovey hamper consists of a frame made of love alphabets, a pack of Ferrero Rocher, some fresh roses, some booze miniatures, small notes props and a golden wooden frame. How esthetically pleasing would the hamper look when you gift it to your special person who is sure to leave a big smile on their face.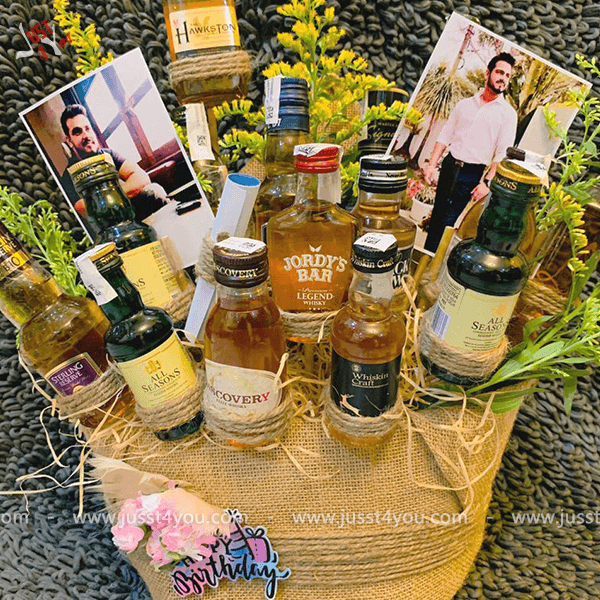 You can opt for a customized booze bouquet, which can be the best for those who love drinking or keep a collection of it. They get some of their favorite brands and have a personalized note and a few pictures to give it a customized touch, some fresh flowers and some miniatures and props. The gift will instantly add buzz to your evening and bring that big smile to your man's face.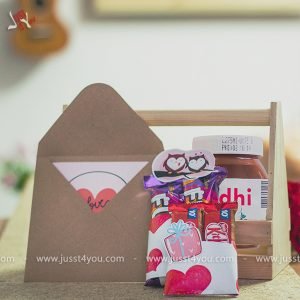 Ditch those cliché chocolate hampers and instead opt for the mini chocolate basket, which would be an excellent gift for someone who loves chocolates. A beautifully decorated pinewood basket comes with a jar of Nutella, some customized chocolates, and one custom note. How chocolaty and tempting does this sound?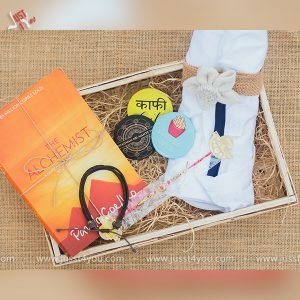 A box full of surprises would make anyone go wow, isn't it? This pandora hamper comes with a tastefully decorated tray with Paulo Coelho's alchemist, some quirky badges, a band, and a custom tee shirt. A box full of surprises, indeed.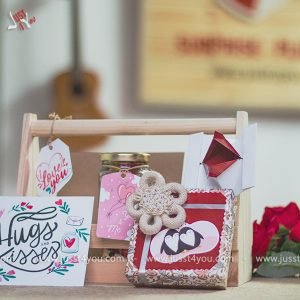 Whether you are in a long-distance relationship or in a mood to show your love through kisses, this hamper is for you. This lovely basket with a beautiful origami card, a graphic card, a kiss me Jar, some kiss cards, and customized notes is what dreams are made of.
Final Words-
The meaning of hampers has evolved with time. It is no longer that old chocolate, fruits, or dry-fruit hampers, but hampers are now created with so much creativity and variety. You can get your hampers customized with the items of your choice. With these unique and mind-blowing gifting hampers, you can grace any occasion with ease and earn those brownie points from your loved ones.