The biryani of a healthy relationship requires several spices of love in the form of moments of surprises. This helps give it a unique fragrance and aroma and keeps the love rejuvenated and fresh as ever. And what best way to keep this ride running than by showering your loved ones with gifts and surprises. These moments of joy depicts your care and affection for them.
We all know how gifts play an essential part in brewing your love, especially when you are in a long-distance relationship or when it is practically not possible to meet your loved one.
But have you ever found yourself quizzically thinking about what could be the best present for your partner that accurately showcases your feelings for them?
Or have you ever stumbled upon how to execute your surprise plan?
Does time become a big issue when you are planning to surprise your loved one with gifts?
Well, for those of you who go through this dilemma, we at jusst4you prepare several such products that you can easily pick out and have it delivered to your beloved partner. Read along to find out about these products.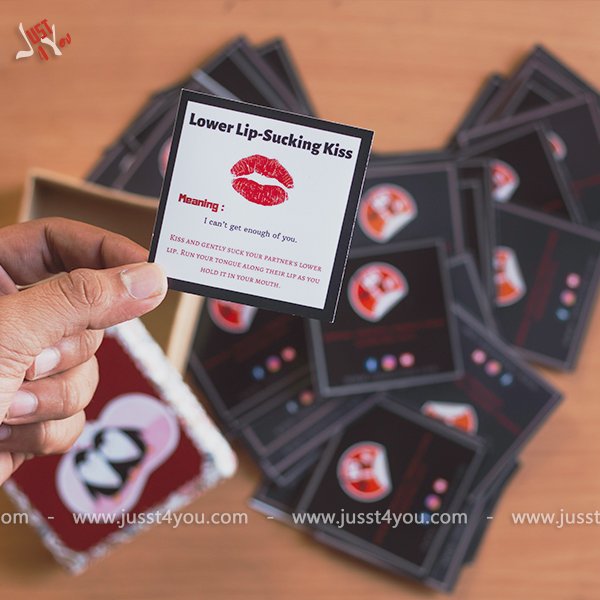 52 Types of Kisses
Kisses 52 –
A kiss is the most passionate way of expressing your love. This simple gesture has the energy to kindle sparks into the mind and body alike. A kiss can show your affection for your partner in the most chaste and pure form. A simple Kiss transcends deep down into the heart and etches a memory that lasts forever. Hence, we have this box of 52 kisses that will bring back these memories and your partner shall feel it in their heart, reliving many special moments again. These memories are to be cherished forever and so it is among the best gifts that manifest your romantic gesture.
String art –
Words and figures carved out meticulously on wood with threads is a simple and sober way to communicate your sentiments. The method of showing your love via souvenirs never gets old. Your partner can use these presents to decorate their home or as a window/table decorative piece. You can additionally have your initials or the nicknames that you two have for each other crafted on wood with threads. Every time they shall glance at it, it will remind them of the beautiful bond that you two share.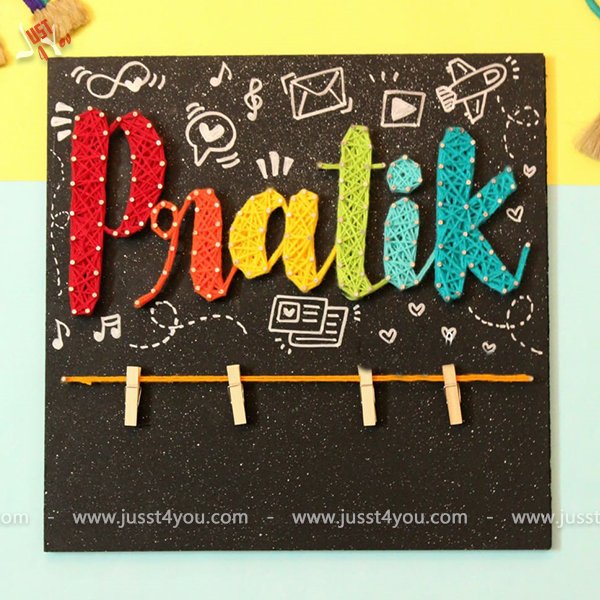 Name String Art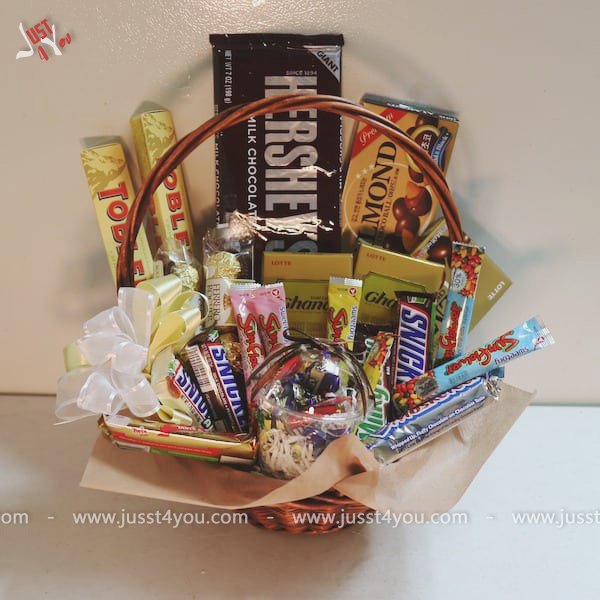 Chocolate Basket
Chocolate basket –
We all agree chocolates are the best option when it comes to conveying your love to your better half. A basket full of chocolates just exponentially showcases your passionate love. The happy thoughts that linger within the mind while the mouth is busy enjoying the slowly melting taste of chocolate acts as a love booster. The moments of joy that a basket of chocolate presents has it in itself the power to lighten the mood and build trust. It can thus help in laying the foundation for deeply rooted relationships.
Personalized Magazine –
If you too are among those who like to go the extra mile and are looking for something beyond regular, then this is just the product for you. A complete personalized magazine as a gift shows how you are always on the lookout to try out things outside the box. With your photo as the cover pic, you can have a whole magazine made and delivered to your partner who will surely never have anticipated this form of a gift. The uniqueness of this gift makes it stand out and that invariably shows how much your beloved partner means to you.
Personalised Magazine
So, there you go. We have provided you with four super solid gift options to surprise your loved ones. At Jusst4you, we have a team of efficient members who will take care of the entire execution phase. We will deliver your gift item for you and make things more convenient for you. Scroll through these gift products and pick out your product of choice. Go ahead, why wait.