It's all about being thoughtful regarding gift-giving, so the more personalised you can get, the better. It doesn't matter if you customise it—monograms, portraits, astrological signs, you name it—what matters is that you've chosen something they'll enjoy and that is special to them. There's something for everyone (seriously, everyone—Mom, Dad, your BFF, your girlfriend, the list goes on) from customised jewellery and monogrammed mugs to a throw blanket made from a full-on handwritten love letter and a custom planter made to look like their pet. And, to top it off, these personalised gifts are timeless, so if you're shopping for Christmas, birthdays, a housewarming party, or just because, we've got you covered. Giving has just been a whole lot simpler.
Custom gifts to give in 2021
Personalised gifts can stand out in a crowd. They're perfect for hard-to-shop-for people and for leaving a lasting impression. At Jusst4you, provide you with a list of some amazing custom made gifts for your loved ones and make them feel go awe in appreciation.
How about gifting t-shirts that can reflect your memories and make that person feel extra special. T-shirts emblazoned with your messages or memories can be a truly unique gift. Book a t-shirt in your favourite colour, and we'll customise it for you with a special message or picture! It is available in sizes ranging from small to 4XL, allowing everyone to show their family pride. For the ultimate gifting experience, personalise it with family names, titles, and 15 different names.
This one-of-a-kind name album might be the ideal present for anyone special in your life. Give them this beautiful gift to show them how much you adore them! It is important to make others feel special if you love them. And giving a unique gift is a vital part of the process. Show your loved ones how much you care for them. Give this personalised name album to your loved ones to make them feel unique and to convey your feelings for them. Tell us their names, and we'll create this awesome gift for you to send as a surprise on a special occasion.
A treasure trove of knowledge. And those gems are the memories you wish you could relive, all the little moments you want to remember. There is nothing more lovely than giving someone a book filled with memories. Make a memorable day for your loved one by purchasing this handcrafted scrapbook. Scrapbooks never go out of style. It is, in fact, a memory lane where you can express your feelings to your loved one on each scrapbook page. This lovely scrapbook is handcrafted and contains five pages with your pictures, a note, and a treasure trove of memories to share with your loved ones. This is a truly unique gift! This handmade scrapbook will include 25-30 pictures with personalised messages.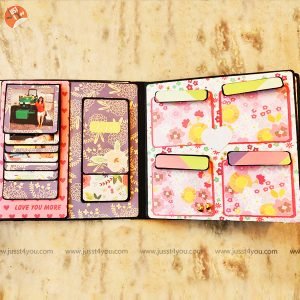 Are you looking for a cute way to startle your significant other? This designer present will add warmth to your relationship! A memory cage that sheds light on your relationship. A cage of memories and special moments spent with your partner, all the times that they made you feel like you were on top of the planet. You must, however, repay them with all your love and affection. – This cage will tell you to do that in a whole new way. A present that you and your loved ones will treasure for the rest of your lives. We offer you the same old gift that will make your partner fall in love with you.
When you personalise each gift, you can ensure that you're giving the recipient something special. You can prove that you put extra time and thought into your gifts by adding a particular letter, their favourite image, or their name or monogram.
Make your relationship even more beautiful with this lovely picture collage, which is bordered by fairy lights and features many memories in the form of pictures. A lovely present to brighten your special someone's day! The LED photo collage has many images that you can supply and is surrounded by dazzling fairy lights. This will certainly brighten up your room, as well as your relationship!
A personal touch to a gift makes it even more memorable, and the memories created are treasured. Making their day even more special by surprising them with one-of-a-kind handmade woodcrafts gifts. What could be better than a gift with a distinctly vintage appeal? Gift them unique wooden hand made items, such as a wall hanging with an intricately etched couple picture, engraved wood signs or wooden nameplates, or even cool stuff like wood sunglasses, to commemorate some special occasion or a milestone.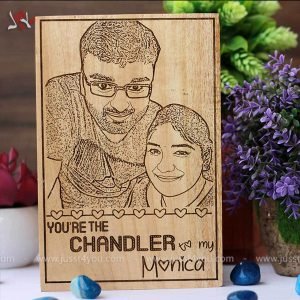 Do you want to make your gift both romantic and enjoyable? Add a dash of gaming to the mix. This picture puzzle is the best gift because it blends memories with a game! Surprise your loved ones by purchasing this wonderful gift! Enough of the same tired, uninteresting presents. We've got a brand-new concept here. Do you want to make your gift both romantic and enjoyable? Add a dash of gaming to the mix. Give us a picture that you'd like to see on the puzzle, and we'll take care of the rest. This 30x20cm puzzle might be the ideal entertaining present for you. Give it to your special people without telling them what's inside. Enable them to sort it out and come up with a solution.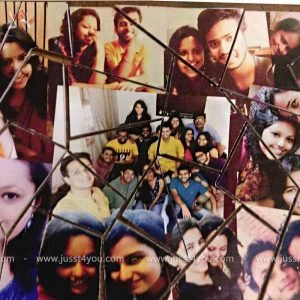 Send this one-of-a-kind customised calendar of memories to that unique individual. Turn your pictures into beautiful wall or laptop calendars that you'll enjoy all year. Allow them to savour the memories every day by giving them this thoughtful gift. A calendar is one of the most important things we use every day. Why not make the easy calendar a spotlight for moments close to your affection because we spend so much time referring to it for all our important events and plans. Share your most memorable moments with us so that we can create something special and romantic for your loved one. You should go through it if you feel nostalgic to relive the exact moments you love. The cheerful photos will not only brighten your day, but they will also serve as excellent conversation starters.
With words, shapes, and portraits made of wood, nails, and thread, the lost thread art technique of depiction is revived. Create a unique gift for your loved one by weaving all of your thoughts and affection into the strands of thread art. Gifts become more valuable when thought and effort are placed into them. So, with colourful threads entangled to create artistically embroidered words, forms, and portraits, we offer you the most thoughtful gift.
Conclusion
When you give someone something that appeals to them personally, it becomes more than a gift or a token of your gratitude. It becomes a symbol of your relationship and the exclusive bond you share. It demonstrates that you respect their uniqueness, which everyone needs in this world: to be respected and valued for who they are. And whats better than custom made gifts for them.