Valentine's week has started, and February is the month of love, as is said. But why only limit yourself to only the month of February, when there are many more occasions in the entire year that you can arrange for your special one? Only Valentine's Day, but you can get the best dining experience from us for a cozy date night. As who knows, maybe she/he can say 'YES', or his/her jaw-dropping expression is what you wanted to see and give the best surprise in his/her lifetime.
Here we have the eight best dining ideas for a cozy date night
Restaurants and highly well-known places are all fine, but when looking for a cozy dinner date, why not choose something extraordinary and unique to surprise your partner or out of areas with your girlfriend/boyfriend? The idea is somewhat unique as you get to experience your special one a fancy lavish six-course dinner on the wings of a giant airbus and take-off in the clouds of love together.
You would have always seen movies where the guy tries impossible stuff to impress the girl on their first date; those scenes from the movie can transform into reality. This date idea is not a typical date set-up and is something extraordinary.
Yes, a dinner date on the airplane wings! As you would be experiencing the coziest date night with your lover on an airplane wing parked on a highway.
There will always be some traditional touch with a decorated table, flower bouquet and a chocolate cake (there's still an option for customization). Nevertheless, you would not have to spend your money on a flight ticket for experiencing dinner inside an airplane. So, do consider this as one of the best dining ideas for a cozy date night that you would experience once in a lifetime with your loved one.
Starting from the evening before your dining experience gets a Cabana set-up done on the green grasses for a lovely and romantic evening. You with your loved one will have the opportunity to watch your favorite movie on floor beds inside cabana under the stars. Another excellent dining idea for a cozy date night with a big surprise for that movie-loving and filmy person in your life.
You get to spend a lovely evening and night with your loved one capturing the mood of your favorite movie with snacks served by a private butler in a personal cabana set-up. A stunning set-up starting from the get-go lining the path with some scented candles and flower petals known for their love-sparking qualities.
While surprising your special one, why leave something unfulfilled? From glimmering candles to dim lights and a chalkboard to speak your heart out as well as flower petals spread all over the surroundings. It is guaranteed that you will get an ambiance that fills two hearts only with love.
The cabana is set-up with mattresses and pillows, and there are rose petals and candlelight decorations. Decorations with fairy lights to make it feel like a fairy tale you had heard in your childhood. Also get a three-course meal for both of you starting from starters, main course and dessert. Soft background music, some props and just the two of you dancing with the music and spending a fantastic night.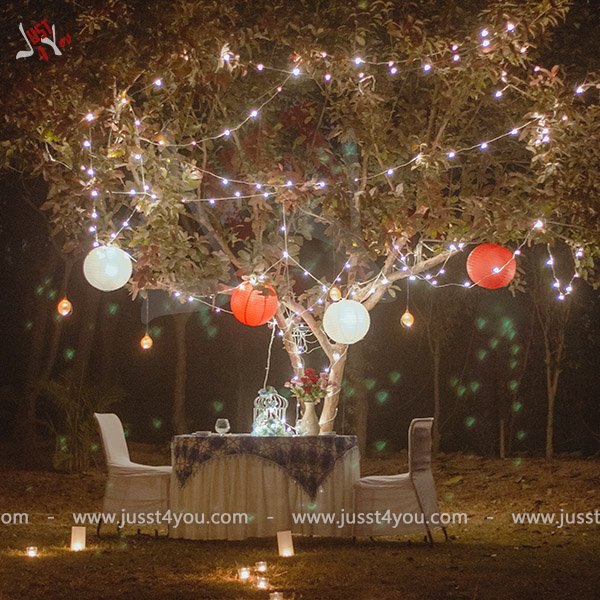 When there's an exclusive restaurant to impress your loved one grab the opportunity. Plan the dining gateway for a cozy night along with some romantic vibes that flutter around you. There is a welcome drink, some fairy lights, a decorative cage, a three-course dinner, a private butler and some quality time to get to know each other.
At the hour of the proposal or to ease in no time, a comfortable and tranquil ambiance gets the work done. Not only a delectable dinner but a delightful scenery outside the lawn with a candlelight arrangement does metal. Adore and admire your partner, especially with this exceptional dinner date plan to strengthen the love bond between you both.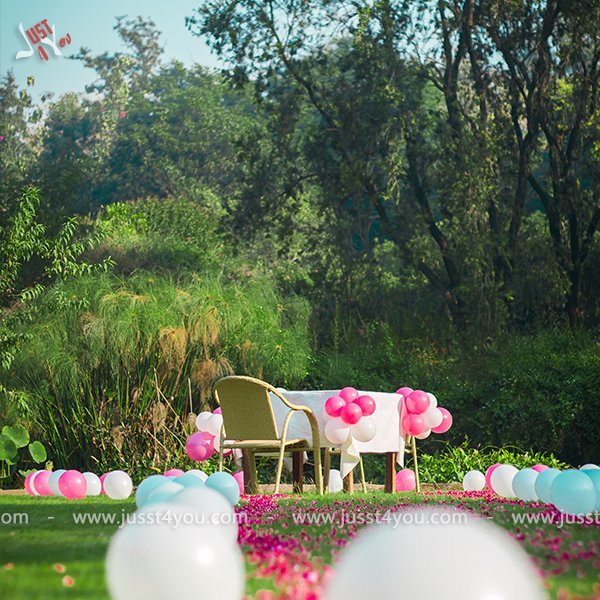 Beneath the open sky under the stars and moonlight, take your date to a perfect romantic dinner. A candlelight dinner experience that can become a memorable one, you can plan this set-up with the ideal romantic light music of your choice, balloons, and flowers too. It would be a dream come true with your special one. There can be some inclusions like a guitarist or cake or a video shoot as per your occasion.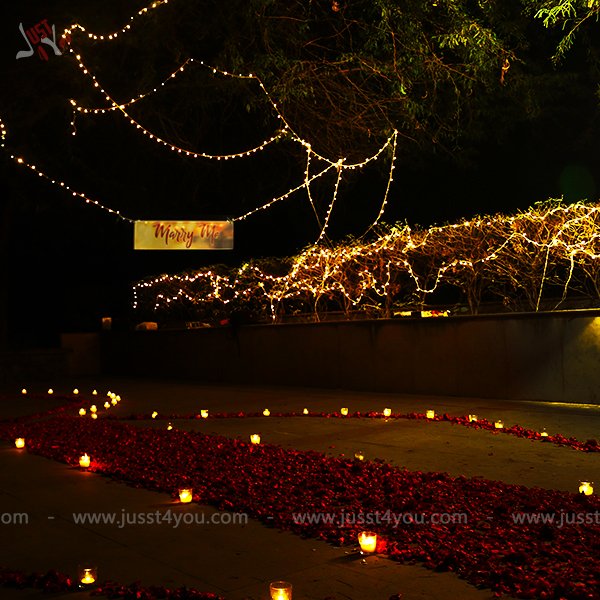 If not a beach, then why not a lakeside cozy dinner date? With roses, heart-shaped balloons, background music and wine and a prop of " Will You Marry Me", along a lakeside isn't it the most romantic dinner date that you can have with your loved one?
Candles arranged in a big heart and inside filled with rose petals and a combination of red and white balloons- the place where you can kneel and propose him/her and romantic music in the background is just the dreamy proposal everyone wishes to get.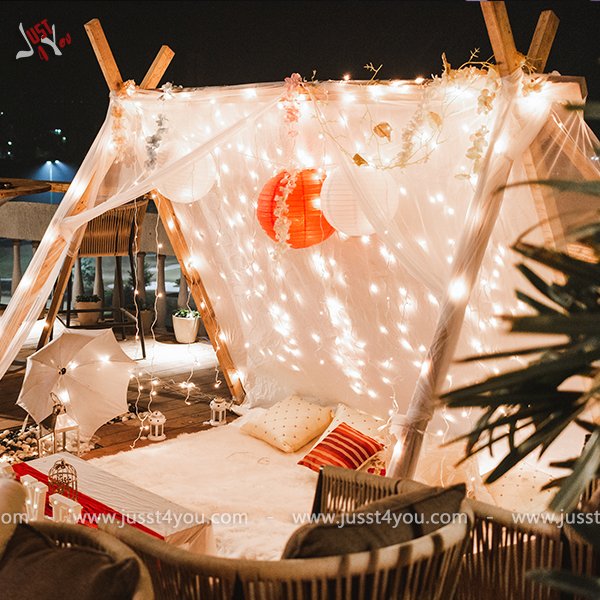 When you do not want to go out in fear of corona but want to impress your special one, then that's the option? Cannot even think of a theme?
We got you covered. Plan your Bohemian cabana illuminated and decorated flower chandelier and cushions for dinner date night.
With a beautifully decorated dinner table with LOVE Neon LED sign, candles in pearl glass jars and LED bottles, some lanterns, flowers and candle pillars, you can set-up the perfect cabana candlelight dinner date on the terrace.
A small garden area with background music offers you to express your love in a private space in front of your cabana.
Sparkling candles are spreading beautiful aroma in the air;
bubbly balloons express that life is beautiful when your loved one is by your side;
and the subtle fragrance from flower petals and a perfect seven-course meal drink that makes the perfect ambiance. Get yourself this arrangement and steal a kiss or so, and make the day stay in your cornerstone memory for a lifetime.
A pleasing ambiance, a cozy dining experience, and beautiful interior designing will blow your mind with the zombie dine-in set-up.
With the warmth of hospitality, passionate food, devoted staff, vibrant ambiance and a lovely place for you, both are known as reflections of perfection.
With a diverse menu that equally satisfies non-vegs and vegetarians and a two-floor seating area, you spend quality time with your special one. Even if you both are a party person, you get a set-up with dim light and loud music and can even opt for an open terrace seating area or enclosed ones as you like it.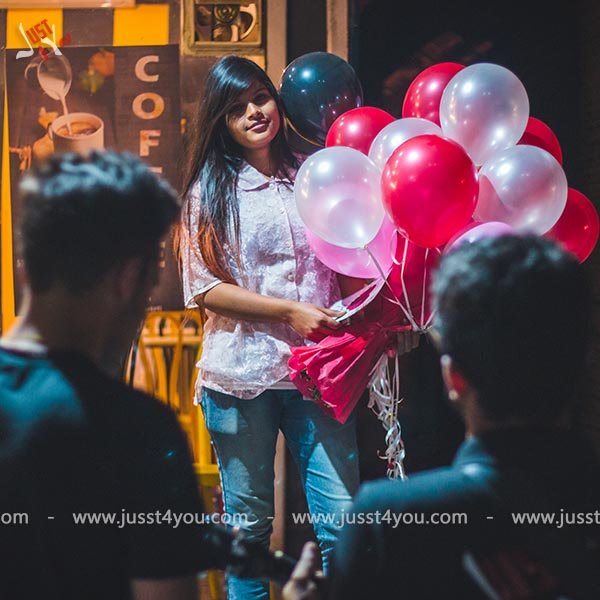 Who does not love surprises, that too midnight surprises? On your loved one's special day, or some other day unique to you and both it feels nice that you made an effort. Surprise your loved ones on that day with a rose bouquet, a cake, a teddy bear, guitarist and cherish the moment. As she/he opens, the doorway capture your partner's face brightens ups as a cake being delivered with a special surprise.
What your partner gets to see is two confetti explosives, a guitarist and vocalist at the door, a bunch of red roses, a bunch of helium balloons and a special romantic message that you want to convey.
Conclusions
Being loved and loving your special one with some unusual surprises in something everyone wants. It is a special feeling when you see the smile and joy on your partner's face. Why not select one of the eight dining ideas for a cozy date night and let that day be one of the memorable moments in your life.